Like her red hair, passion is her alias, she is always ready to help. Like her brilliant and ingenious freestyle nail art, she is faithful and true, even to the slightest detail of her art. Being creative is in her DNA, and she is our ambassador: @NAIL.JEFA!! 
Basic freestyle 💖
Check out this marvelous work by @NAIL.JEFA with Long Stiletto Tips of Dasgirl. She has successfully vanished some nails into the skin of a snake, and some with diamond paillette, a brilliant metaphor of sex and danger, but it's just one of her basic freestyle, she is the woman to kill.
Brilliant Work 💖
In this work, @NAIL.JEFA used Natural Short Square Tips of Dasgirl, with gold Scorpio charms, Swarovski diamonds, glossy top coat on it, to create such a cute nail art. The rapid application and the extreme flexibility of Dasgirl nail makes it possible for nail artists to complete any sophisticated and delicate work.
Exquisite Nail Art 💖
In her latest work, Jefa showed her exquisite and unique nail art technique and she chose Dasgirl Long Coffin Tips to complete it. The nails of the index fingers and the ring fingers have the underpinning in amber and black, and the others in avocado green and black, and the polish and the dots on each nail is symmetric. And the dots on the nails are anaglyph, making it more than dazzling.
Pinkish Parade💖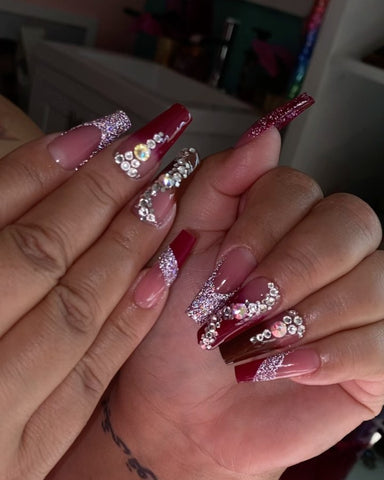 Purple always adds a touch of mystery, but with sparkling gems, this nail art by @nail.jefa is luxuriously chic.
Avoid Boredom 💖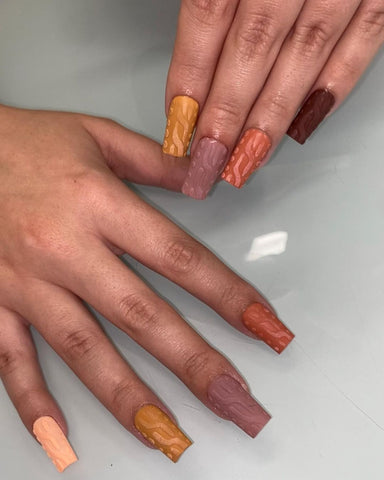 Adding some texture on your square nail tips to avoid boredom, especially sweater texture for this wintry season.
Chic Nail Art 💖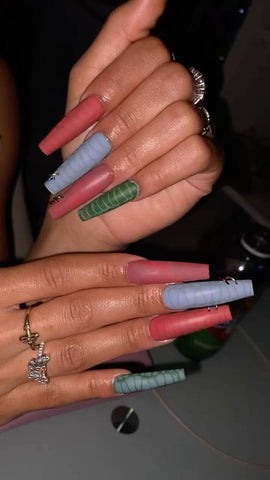 Gorgeous color match with subtle crack textures on nails, and the relatively new trend nail piercings make this nail art quite chic.
Shop 
Long stiletto tips used by @NAIL.JEFA below: